This article talks about Arabian dates and dates packaging machines. As far as you all know, there are more than 10 types of Arabian dates,  and many types of packaging method for Arabian dates. Here we will only mention a little about them and the Arabian dates packaging machines will be limited to what we – Kangbeite Packaging Machinery have.
So please be noted that this is not an article about Arabian dates fully knowledge.
Introduction of Arabian dates
The Arabian dates are a type of staple food for people in Saudi Arabia and the wider Middle East countries. The bedouins used to live off Arabian dates for many years before they discovered oil. Arabs tie cultural connotations with dates, especially some of the most well-respected Arabic values like gratitude, generosity, and plenty. Some consider it as a holy fruit and it is almost always served to guests as part of the hospitality course of every Arab house.
Date palms trees
The Arabian dates are fruits produced by the date palms, which are trees of the palm family, Arecaceae.
The date palm trees can reach from 21 to 23 meters (69–75 ft) high, while the leaves are four to six meters (13–20 ft) long. Dates have existed on Earth for more than 50 million years, and have been prized from remotest antiquity and may have originated in what is now Iraq. The fruit has been the staple food and chief source of wealth in the irrigable deserts of North Africa and the Middle East. Spanish missionaries carried the tree to the New World in the 18th and early 19th centuries. Date palms are grown in the Canary Islands, northern Africa, the Middle East, Pakistan, India, Mexico, and the U.S. state of California.
The meaning of Arabian dates to the Middle East people
Dates are mentioned in the Qur'an, the Holy book of Muslims, who break their fast during Ramadan with a few pieces of dates as their prophet Muhammad (Peace Be Upon Him) used to do. According to the Qur'an, Allah told the Virgin Mary to eat dates during the delivery of Jesus, as she was suffering from the pangs of childbirth. In the Arabia area,  the dates are not only edible food but also a history and culture.
Arabian dates varieties
According to its origins, the dates are often classified as Saudi dates, UAE dates, Algerian dates, etc. Follow are 10+ types of Arabian dates as far as I know.
Top countries that products dates
Most of the world's dates are produced in the Middle East. According to the Food and Agriculture Organizing (FAO) of the United Nations, the top countries that were producing dates in 2016 were:
Egypt: produced around 1.7 million tonnes. The most common date types in Egypt are Hayany and Zaghloul.
Iran: produced 1.1 million tonnes of dates. The most common type in Iran is Mazafati dates.
Algeria: produced around 1 million tonnes of dates. The most common date types are Thoory, Deglet Noor and Iteema.
Saudi Arabia: produced less than 1 million tonnes of dates. The most common types are Ajwah, Al Khunaizi, Khalasah, Medjool and Rotab.
UAE: produced around 671 thousand tonnes of dates. The most common types of dates are Dabbas, Khenaizi, and Lulu.
Iraq: produced around 615 thousand tonnes of dates. The most common date types are Amir Hajj, Dayri and Khastawi.
Sudan: produced around 439 thousand tonnes of dates. The most common date types are Bireir, Abid Rahman and Barkawi.
Oman: produced around 348 thousand tonnes of dates. The most common type of dates is Fard.
Tunisia: produced around 241 thousand tonnes of dates. The most common date types are Deglet Noor, Ftimi, Touzerzayet, and Kenta.
Arabian dates packaging machines
Dates can be eaten fresh as they are picked from palm trees, or can be dried and stored for years. When dates are dried and packed in plastic bags, they tend to produce a sweet syrup that keeps dates moist and delicious. A very common type of packaging method for the dates is vacuum packing for retailing purposes in shops, supermarkets, or online stores.
Among all the packaging type of the Arabian dates, we are going to talk about only the vacuum packaging, for dates in retailing plastic bags, and thermoformed plastic bags, usually 250g, 500g, and 1000g packages.
For smaller-scale production and packing requests, you can firstly purchase plastic vacuum bags that can contain the weight of the dates you need, then use either the double chamber vacuum packing machines or belt type continuous vacuum packaging machines to vacuum seal the bags.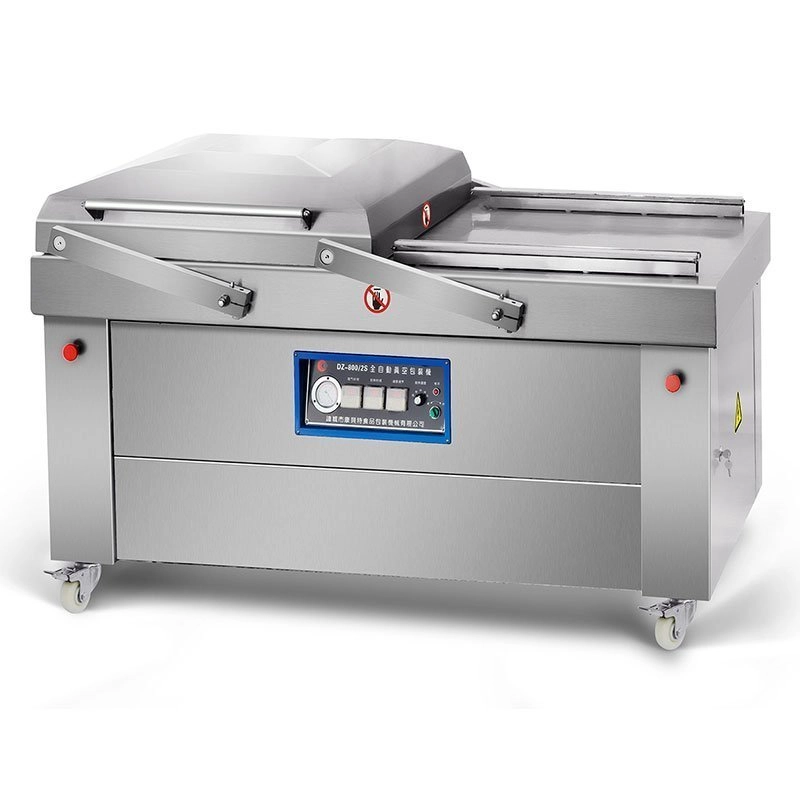 Double chamber vacuum packing machine for dates
Belt type continuous vacuum packing machine for dates
The appearance of the dates packages packed by the 2 machines
For large scale dates production and packaging request, the thermoforming packaging machine is widely used by many many dates factories. With this machine, you can pack the dates in flexible film, or rigid film, automatically.
Common dimensions of 250g, 500g and 1000g dates vacuum packages
The Arabian dates packages by thermoforming packaging machines
Introduction of dates packaging machine – Thermoforming packaging machine
The thermoforming packaging machine is widely used in the packaging of many products, including Arabian dates of course.
There are millions of tons of dates produced and packaged every year throughout the middle east markets, if you are one of the dates business owners, a good packaging machine would definitely help you with your business grow.
With a thermoforming packaging machine, you can pack over 600 KG of the dates per hour, which is about 5 tons of dates per day with 8 working hours. This production capacity is produced by a medium-size machine. You may apply multiple sets of the machine if higher production capacity is required.
Thermoforming packaging machine for dates is made of food-grade SUS304 stainless steel, together with dependable PLC control system, electrics, pneumatic system, guarantees fast packing speed and high packing quality.
The printer system is available to print date information to the packages.
Automatic dispensers (multi-head weigher) is applied to some packaging lines to make a higher automation grade. But in many cases, the weighing process is manually by operators.