Vacuum skin packaging , also as known as skin packaging, skin pack, is a new packaging technology thriving in the recent years. The technology is happily welcomed by premium products in the world, because it gives products amazing presentation effect. For a long time, vacuum skin packaging was considered as expensive packaging solutions, because of high price vacuum skin packaging machines and packaging materials. But now, with KANGBEITE PACKAGING's vacuum skin packaging machines lines, cost-effective packaging machines for vacuum skin packaging is available to worldwide customers, and the technology is never hard to touch.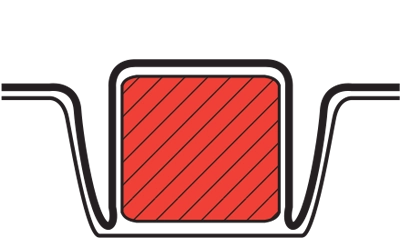 Vacuum skin packaging benefits
Vacuum skin packaging could give the best appearance of the products, reduce waste, whilst improving shelf life of products.
The VSP vacuum skin packaging provides better protection to the packaged food by so called 'second skin', increasing its shelf life and guaranteeing its food safety. The 'second skin', means the sealing film, is a layer of almost invisible film with highest transparency & brightness, giving the product a more attractive presentation, which is a great lure to consumers. For this reason, it is the most optimum packaging solution for the packaging of premium products.
VSP main benefits:
Packaging can obviously increase the product's shelf life, so as to minimize customer returns in retailing and reducing total packaging costs.
Excellent sealing solution, even for products with oil and liquid.
High puncture resistance, guaranteeing the integrity of the packaging.
Excellent formability keeps the product in place along the entire supply chain and helping to minimize waste.
Optimization of the packaging, helps to reduce the storage space and reduces the cost of transport.
Its lightweight structure makes it an environmentally friendly choice, helping to reduce food waste.
High transparency and gloss for maximum appeal, helping to differentiate the product in the shelf.
Excellent "skin" behavior — perfect adhesion to product.
The packaged product can be placed in any position, because the film retains the liquids tightly.
Vacuum skin packaging film allows to pack products with irregular shapes and different heights, giving the product a natural and fresh look.
Easy peal film to facilitate the packaging opening.
Before making the decision to launch vacuum skin packaging system to your business
When deciding to build packaging systems, first and most important considerations include:
Shelf-life expectation:All in all, if you need shelf life longer than 20 days, you shouldn't consider vsp packaging.
Mechanical protection requirements.
Marketing attributes.
Target consumer.
Opening and reclosing properties.
Package cost: Vacuum skin packaging equipment and material is still higher than vacuum packaging technology.
How the product will be or should be loaded or filled: manually or automatically.
Printing and labeling requirements.
Interfaces with other equipment in the production process.
Proper packaging equipment.
A reputable supplier of vacuum skin packaging machines and materials can help you with answers to these and other questions, and recommend the right packaging for best sales goals and objectives with cost-effective solutions.
VSP is a better solution to consider when packing premium products. Except for the attractive presentation, VSP prevents liquid from leaking and can extend shelf life up to 5-20 days. Overall consideration of the factors above could make it easy for you to see if vacuum skin packaging is right for your business.
Vacuum skin packaging equipment
KANGBEITE PACKAGING  MACHINERY offers customers with high quality, cost effectives vacuum skin packaging machines. Please visit our product page for details.
Our vacuum skin packaging machines are all applied to packaging in rigid trays, not on paper board.
Vacuum skin packaging machine by semi-auto tray sealer, in premade trays
Vacuum skin packaging machine by inline automatic tray sealer, in premade trays
Thermoforming vacuum skin packaging machine, in automatic thermoformed trays.
Optional functions:
Automatic filling is available for inline automatic tray sealer and thermoforming VSP machine
Printing is available
Labelling is available